Sadie Prescott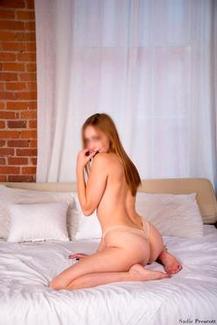 Email: sadieprescott@protonmail.com
Website: www.sadieprescott.com
I'm the girl you've been dreaming about.
I'm the woman at the grocery store who returned your smile before disappearing behind another isle. I am the girl who sat next to you in class and giggled at your sweet love note. I am the friend of yours who had the best advice, and was always there to reach out to. I am the model and porn star you've seen online, and could never dream of having. I'm the smart art girl you meet at the gallery opening, who challenged and taught you. I am the girlfriend who gave you love, support, and xxxxx unconditionally. I am all these things and more.
Allow me to provide for you.
Let me soothe your sorrows with my tender and caring touch. Take my hand as I guide you through personal explorations of the body and mind, using my honest and open heart as our compass.
The Beautiful Chameleon
Be it a calming night spent together at home or a passionate romp out on the town, I am equally enthralled by you. As a creative, easy-going, and flexible young woman, I blend into any private or social setting flawlessly. I keep it elegant and love to dress to the nines when the time calls. You'll undoubtably be the man of the hour with me as your xxxxx beautiful guest. With every visit you'll find an endless supply of new gorgeous lingerie, of which my tone body will always be flattered by. Being multi-dimensional, explorative, and fun, I also have fetish and costume attire per request.
An Intellectual and Healing Experience
Don't let my stunning looks, varied perversions and high xxxxx drive, or academic and social interests fool you. I'm an intellectual at heart and love to experience this strange and wonderful world in every way that I can. Be it through a book or film, an art, music, or theatre show, a peaceful nature hike, a foodie dinner date, or traveling, I keep myself open to new experiences and am grateful for all that I have. I absolutely love the work that I do and truly believe in it's healing and transformative potential. Not only do I have the opportunity to meet so many great individuals, we're able to learn, grow, and share together, and I find that utterly priceless.
Now offering doubles and fetish sessions, with a new incall space in Uptown!
xoxo,
your darling Sadie